About The Tribute Journal


Tribute Journal was created by Lynne McCollum Staley in 1999 to encourage written reflections to celebrate the lives of special people. It provides a tool to be used at visitations or funerals for friends and families to articulate grief and joy, collect words of condolence and gather fond memories. The result is a lasting treasure, which captures the unique characteristics and accomplishments of someone who was loved and cherished.
How to purchase: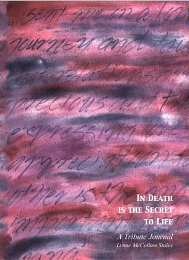 In Death is the Secret to Life: A Tribute Journal is available on Amazon.
The Tribute Journal is also available in Illinois at:
Anderson's Book Shop ~ Naperville
Kindred Spirits ~ Yorkville
Women and Children First ~ Chicago
---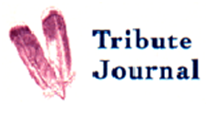 About the Logo
The Tribute Journal logo consists of two, red-tail hawk tail feathers. The feathers were chosen as the Tribute Journal logo because in many cultures, feathers are symbols of the soul taking flight, of healing and of honor. John Rawlins, award-winning Wildlife artist from Wisconsin, created the feathers exclusively for Tribute Journal.
---

"When Trici died suddenly on January 1, 1999, I began to wonder how I would possibly keep her essence and spirit alive. Our boys were only 7 and 3 and while I knew Trici as a wife, a friend, a business partner and a mother, I had only known her for 14 years. The complete picture of Patricia Brennan Zuba included details, stories, memories, nuances, brushstrokes and shadings that I was not aware of or feared I would forget. I knew that family and friends wanted to help me, to help us. I realized that there was a way for them to help.

Instead of the customary "sign-in" address book so often found at the entrance to visitations, wakes and funerals, I placed a beautiful Journal filled with blank pages on a table. I asked family and friends to share memories. I asked visitors to "take a few moments and help me paint the fullest, richest, most colorful picture of Trici – so Rory and Sean will forever have record of the beautiful lady who they called mommy."

© 2000 Tom Zuba www.tomzuba.com

"The tragic death of my friend has sent me on a long, grief journey and taught me that relationships are precious, that expressing love and appreciation for each other is one of the most important aspects of living, and that it matters how you live your life. Elisabeth Kubler-Ross explains in her book, The Wheel of Life: A Memoir of Living and Dying: "There is within each of us a potential for goodness beyond our imagining; for giving which seeks no reward; for listening without judgment; for loving unconditionally." Here is an opportunity to share love through words. When given the opportunity, visitors will share their thoughts and express their sorrow. The family will have a treasured book of comfort and memories."

© 2000 Lynne McCollum Staley